SUNAN BONANG GRAVE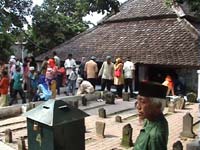 Sunan Bonang is one of the "Wali Songo," preacher in Islam. This grave is located in the city centre, just outside the Ulu Mosque (Masjid Agung), together with Tuban place. This is a serious complex than in Bektiharjo Semanding range of people, some 5 km from the city centre to the south. Not far from the center of Tuban Regency government.

Every day, this is serious frequented by domestic and foreign pilgrims have arrived in Tuban with the desire and their needs. A visitor, if "Haul" (a special anniversary of death) has occurred, and every Thursday Pon (Javanese day) during the month of Muharram (Islamic calendar).

Water from this serious set of viewing on practically useful and pilgrims, drank and took it home, which may be brought Cree blessing. The complex also has serious pool with a national standard, which was filled directly on natural resources.
| | |
| --- | --- |
| | |
| Sunan Bonang, within the tomb complex | Ancient porcelain set into the walls of the tomb |
| | |
| | |
| --- | --- |
| Sunan Bonang; within the tomb complex | Sunan Bejagung; gateway and path to the tomb, located on the road to Semanding |